Nov. 28th, 2012 @ 08:00 pm
My Imitation 1910 Harley Davidson, by Deven Science


My inspiration is a poster in my shop of a 1910 Harley Davidson. I'm not going for an exact replica, but more a general feeling that this bike could be from 1910. Also, this won't be motorized, but I do have some ideas on a simulated motor.

The look I've settled on for this build postulates this: what if you had a 1910 motorcycle. Over the years, various owners continued to repair it with spit and bailing wire. What would it look like by, say, 1930? That's what I want it to look like. I want the paint to be scuffed and old, and I've got an idea for the handlebars that will look farm fresh and awesome.

I started with two mountain bike frames, which cost me a combined $10.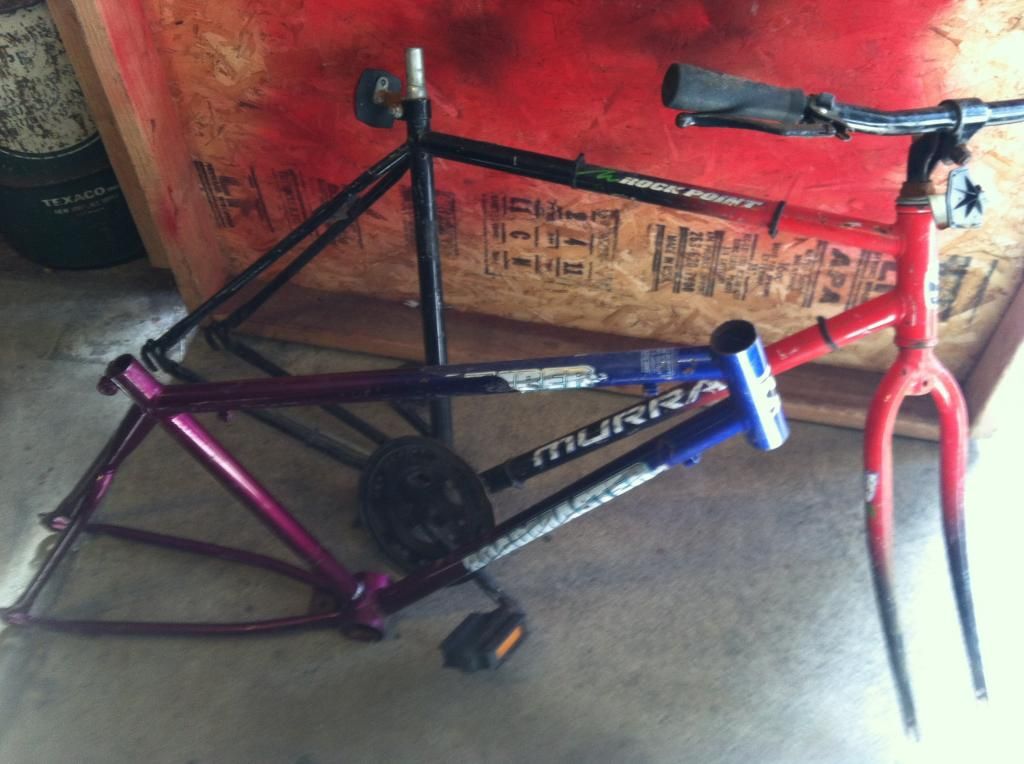 Next I chopped them up, and laid them out in the general arrangement.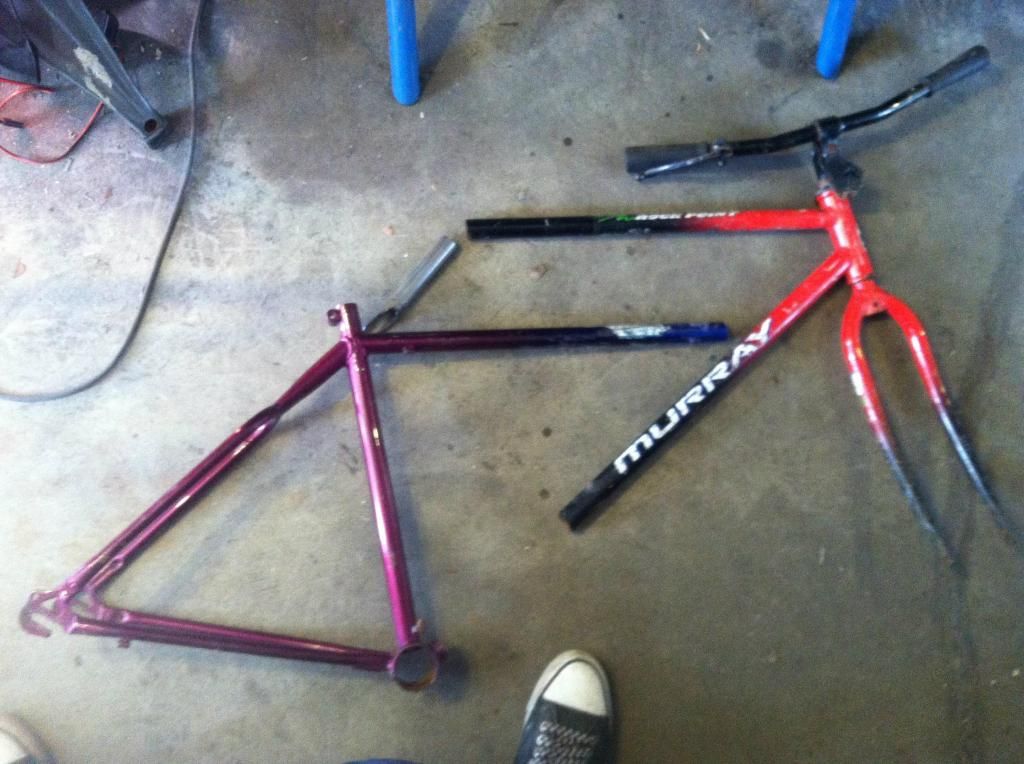 Then I started welding.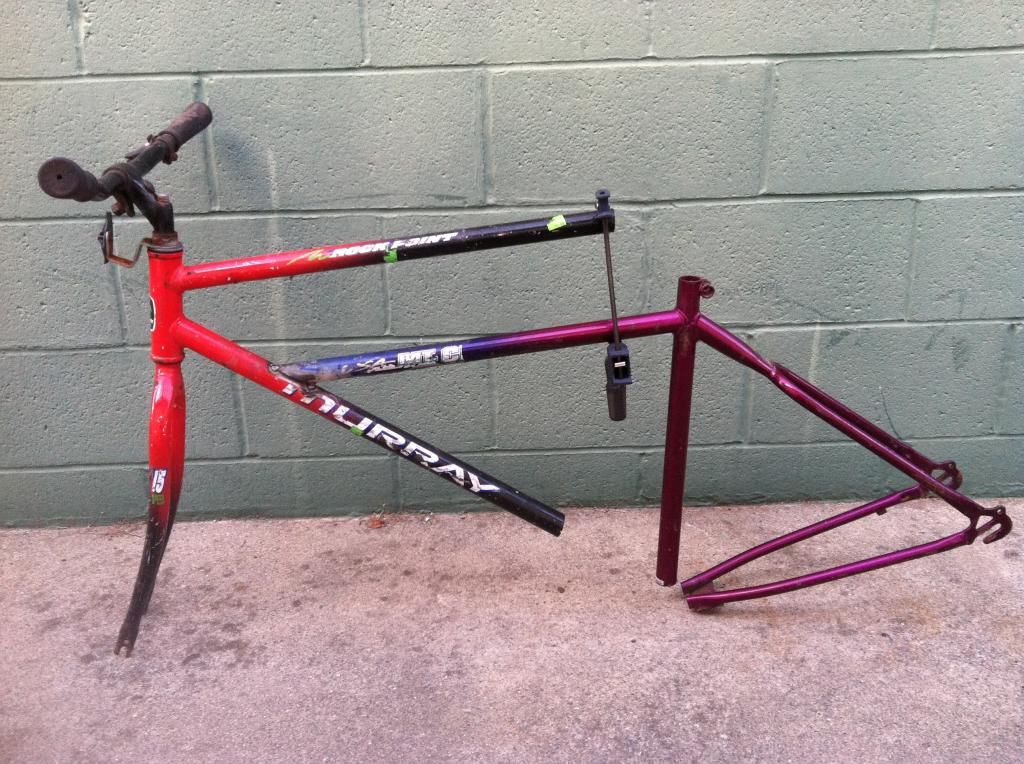 The way I put the two frames together, I knew that I would have to make the front forks longer by 5 3/4", but I planned on making a springer, so it wouldn't be a problem. With that in mind, as I assembled it, I welded on some temporary extensions on the forks, just to get the right height.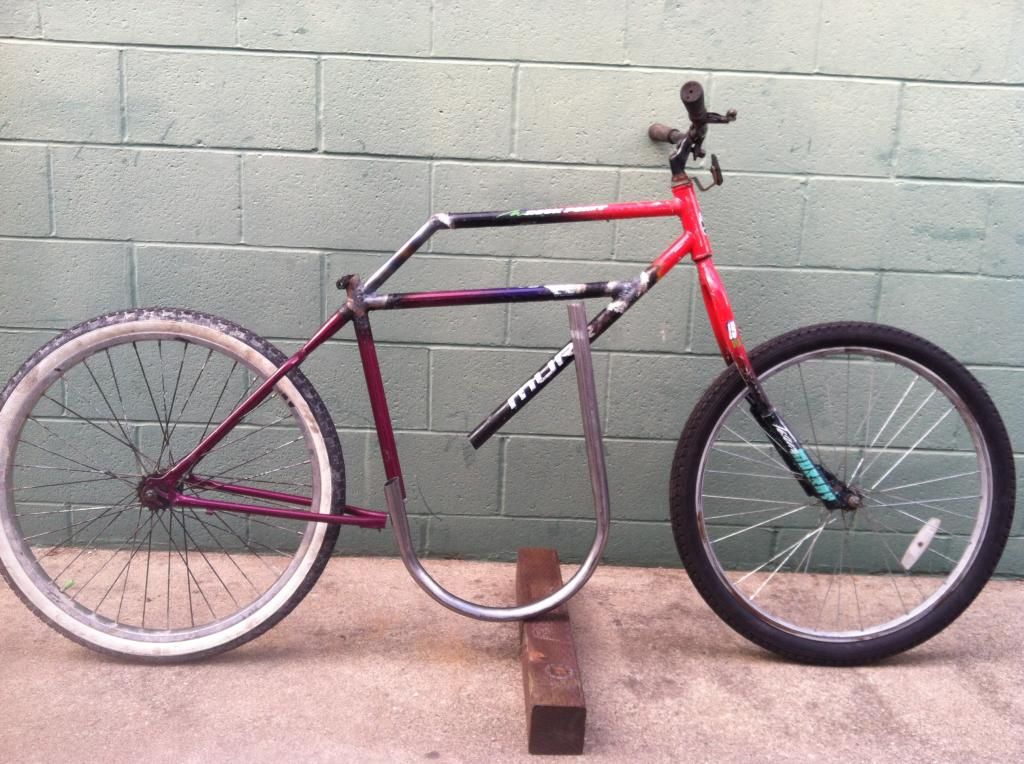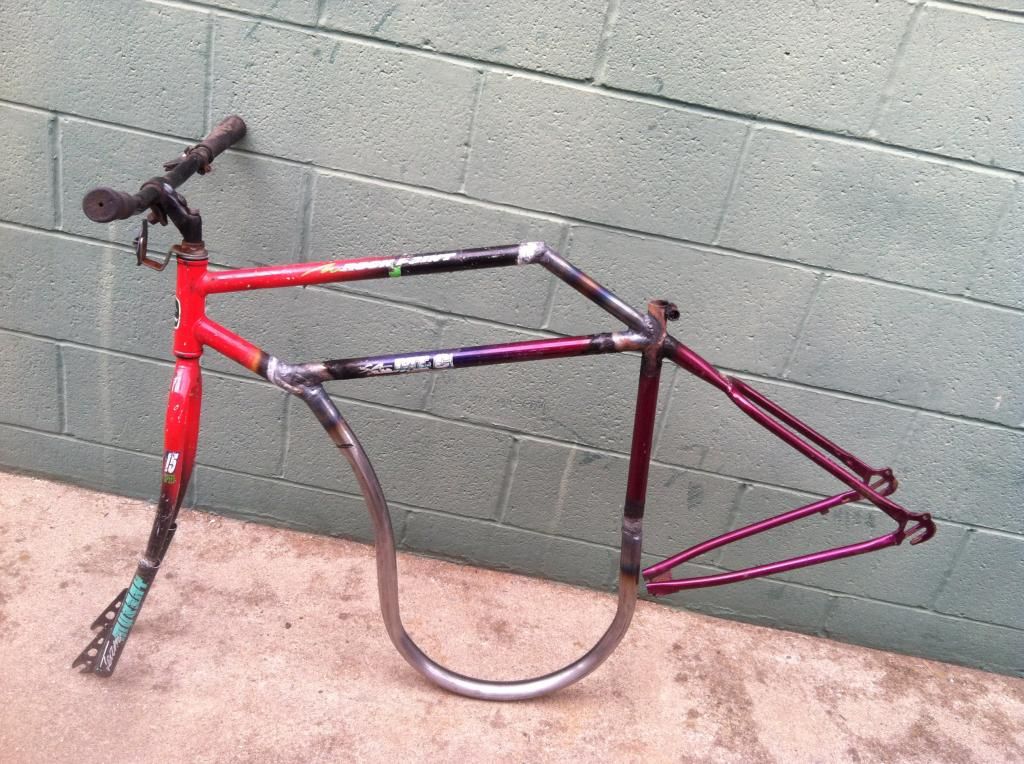 Next, I started working on the springer front end.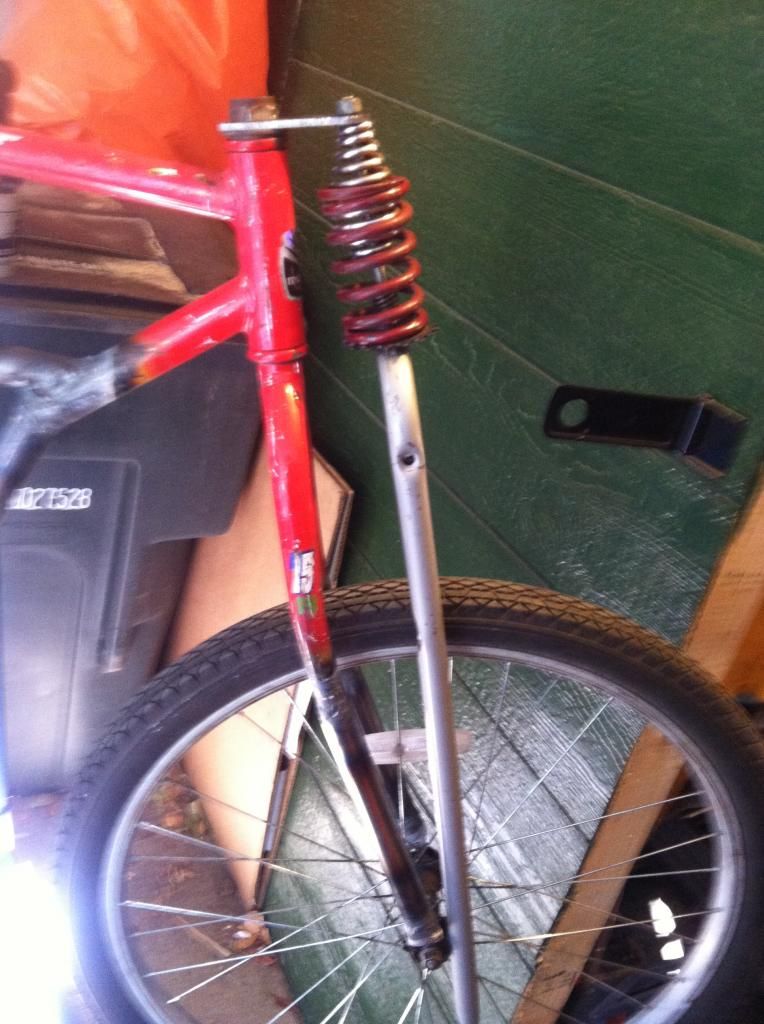 After that, I welded a bracket to mount the seat. I'm using a real motorcycle solo seat that I bought at a recent bike swap meet.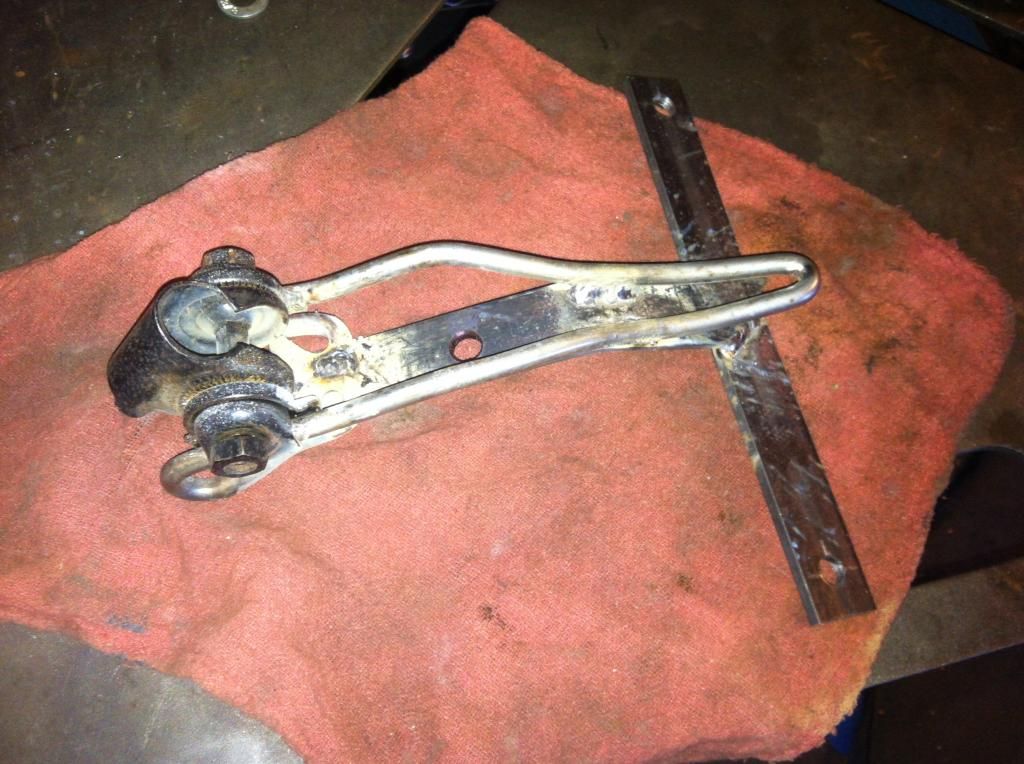 After a break, I welded up some tabs and struts, making the seat mount much cleaner. I also finished a rough build of the springer, which is the second springer I've made, but the first one that's basically from scratch. I used all kinds of odd found parts to make it. At this point I didn't think it was perfect, so I knew there would be more work on it, but it did function.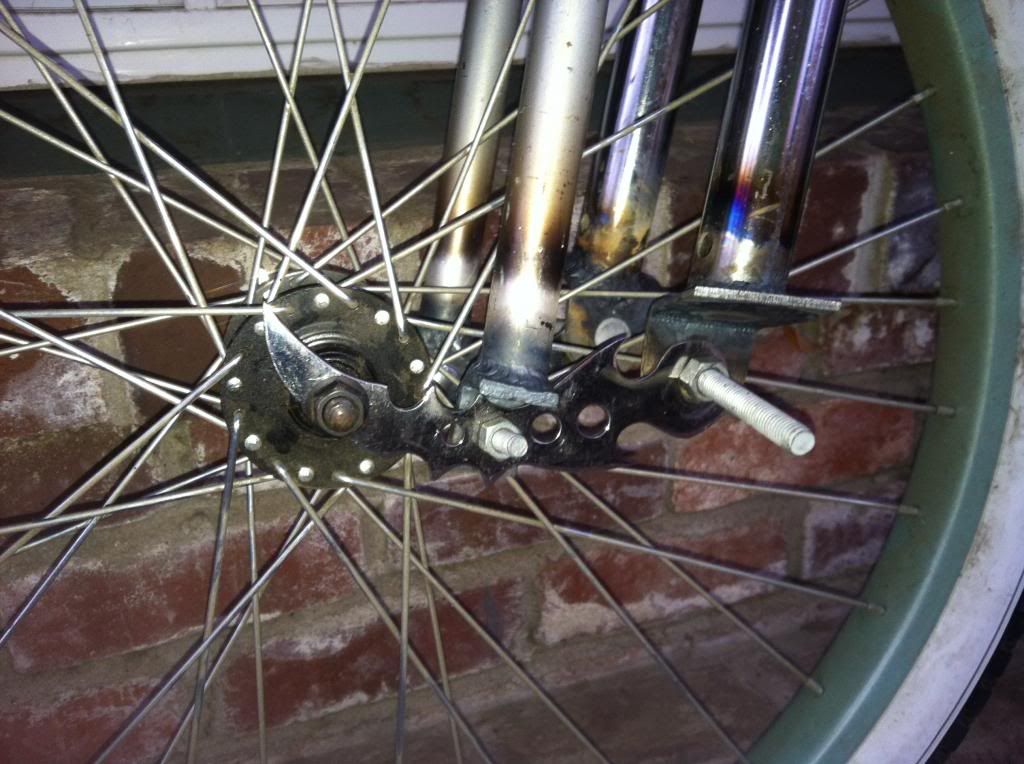 Next step was finishing all the welding on the frame: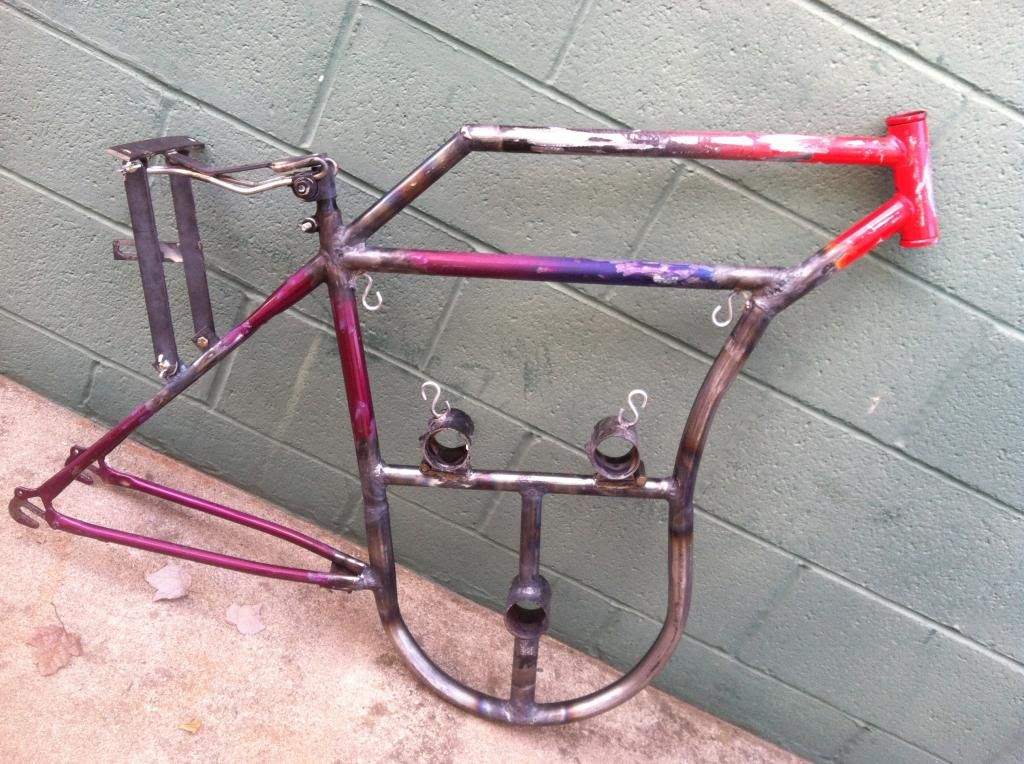 What I did was welded the top two bottom brackets (BB) on hinges, with hooks tacked on the BB's and the frame. I'll then run light springs from hook to hook, which will act as chain tensioners for the chain running around all three brackets.

After paint, using Duplicolor auto spray paint. Going for something close to Indian motorcycle red: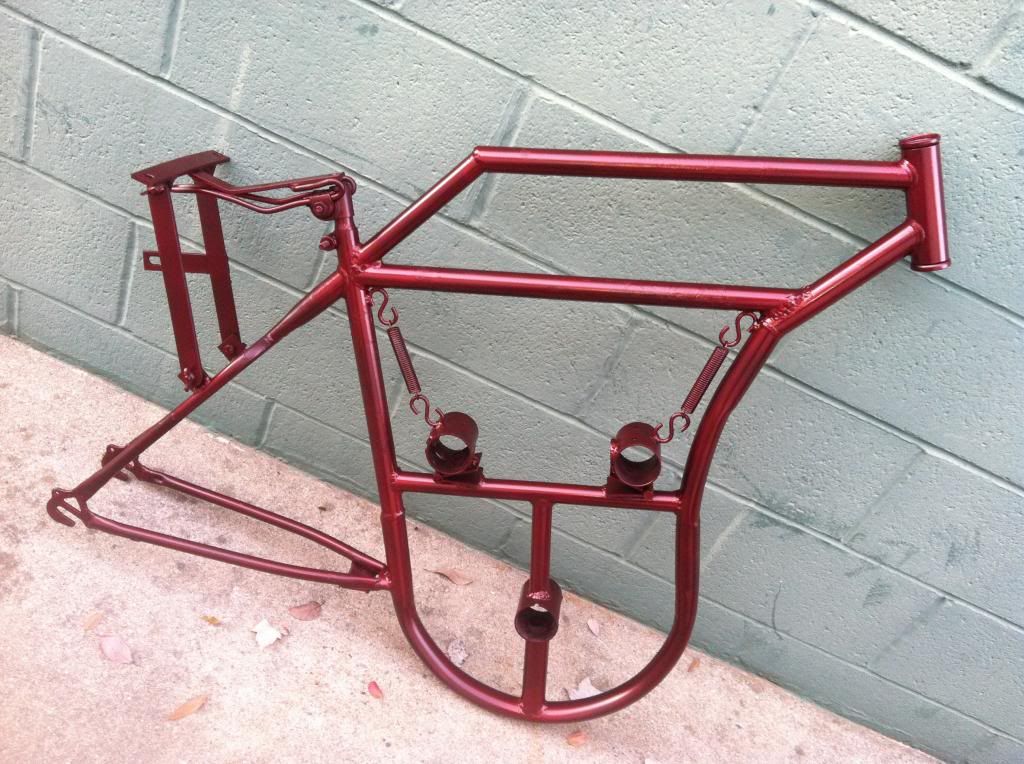 Next time I worked on it, I welded up the handlebars, though I'm not sure I like them 100%. Going with the "many times repaired" idea, I welded up an antique drawknife as the bars.

It sucks to have welded on this hundred year old knife, and then to not be sure I like it!



Don't worry, I dulled the blade on it!

The last thing I've done to this point is put chainrings (sprockets, for non-bike types) and chain on the "motor," finished bolting together the springer front end, put a Harley Davidson pouch on the back that I had made a bracket for, and took her for a ride.

The chain rubs a bit on one side where they cross, but it never snagged, or caused a stop. I'll continue to watch it, but I can live with a small rub.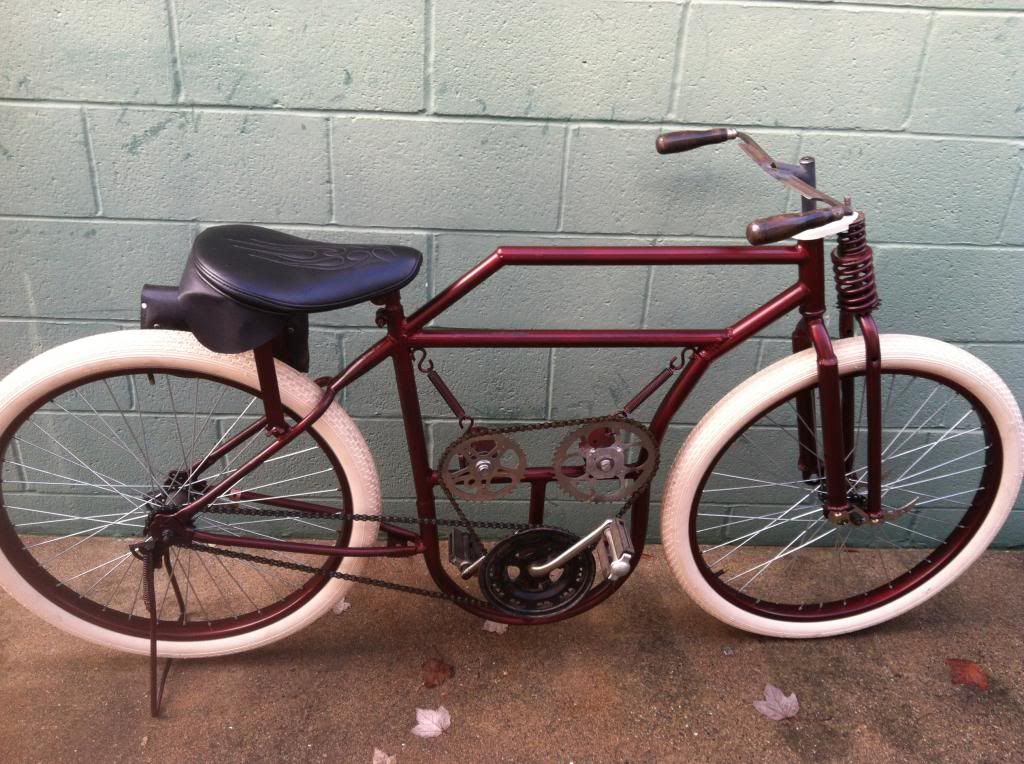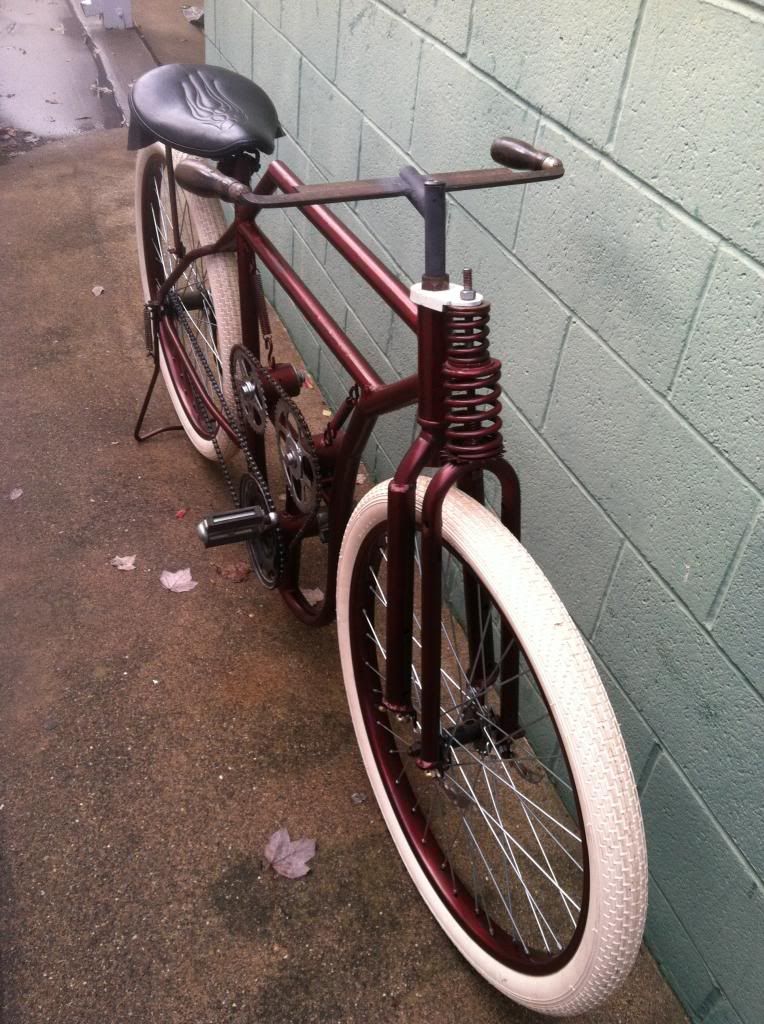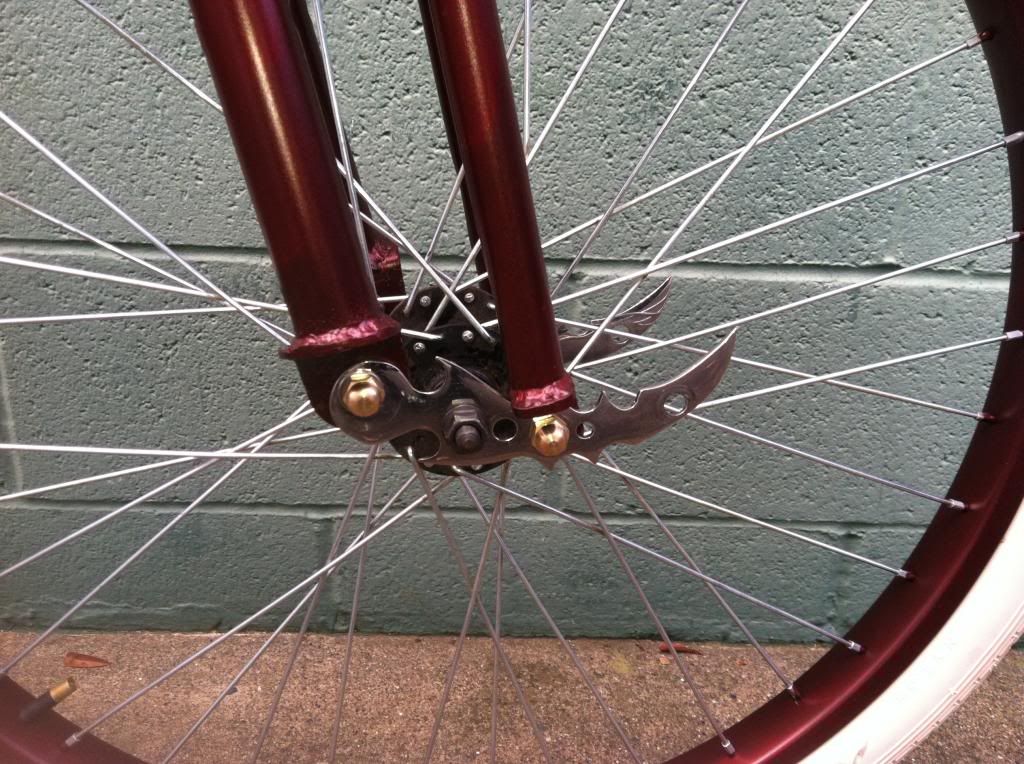 So... now I have a rider that I'm proud of. I'm really happy with how this is coming out. One of my favorite builds of mine so far. What's next? A tank. I still have a list of things to do... this is nowhere near done, but the next step is a tank. But what to make my tank out of? Something that fits my ideas for this thing. Ah! I know...



It's a tank alright... a tank shell. I acquired this brass tank shell at a flea market a while ago, specifically for the bottom, which I cut off to make a belt buckle. So I've had this shell sitting for months, and I figured, why not? I think it'll go perfect for this.

The work on this will continue...
My latest build has been in the planning stages in my drawing pad for quite some time, now. I decided it was time to go ahead, and try to make it a reality. like all my builds, I'm not sure it will end up exactly as planned (usually, my skill level causes it to fall a bit short of from what I intend), but sooner or later, you gotta try.